According to the Washington Post, more Americans want to seek acupuncture treatment than any other professionally provided alternative health care modality, and the number of visits to American acupuncturists has been growing every year. In addition, Chinese Herbal Medicine is often able to achieve results in cases that have not responded to modern Western medicine, and acupuncture and Chinese Herbal Medicine are often cheaper and have less side effects than Western medical care.
Chinese herbs are rich in minerals, vitamins, and phytochemicals that help balance the body. Chinese herbs have been used for over 4,000 years to alleviate a multiple of health issues. Additionally,
Additionally, Chinese herbs can be utilized to boost energy, metabolism, reduce stress, and stop pain. Herbs can be used to enhance fertility, stop pain, and alleviate headaches and migraines.The herbs do not mask symptoms.
The way that herbs work is, they balance the body. Through a balanced body, the immune system will become optimized, and pain and illness will get better (and oftentimes go away).
Our herbs have the strictest purity and safety guidelines to protect our patients and ensure quality. All of our herbs have been tested for heavy metals and other impurities.
Herbal Brands that we carry in our office:
Additionally, we also offer facial rejuvenation services. Facial rejuvenation is a form of natural treatment that focuses on helping patients look and feel better. Fine lines can disappear, deeper lines can soften. Many patients report better skin texture and tone after a few sessions of facial rejuvenation.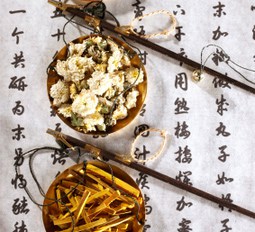 We offer many different forms of herbs to help our patients with their health issues:
Pills – the easiest form to take for most patients
Granules – herbs that have been decocted and then dehydrated to form a powder. This form is best for more severe conditions or for patients that want to achieve faster results.
Raw – this form has the most pungent taste and requires decocting (cooking). This is for severe health issues or for patients that want very noticeable results.