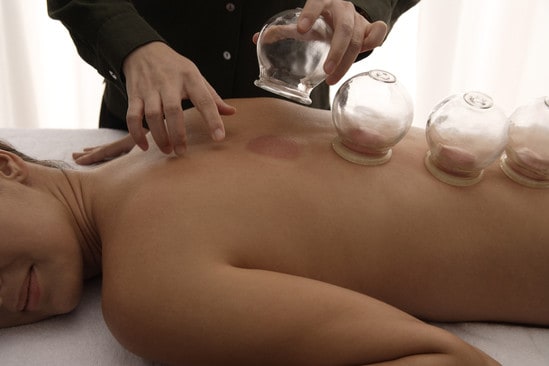 $30

for a 20 minute session
Cupping therapy is an ancient form of alternative medicine in which a local suction is created on the skin; practitioners believe this mobilizes blood flow in order to promote healing. Cupping therapy can leave red or purple circles on the patient's back. The marks can last for 4-7 days.  Make sure to drink a lot of water after your treatment to flush out the toxins that have released from the treatment.
[1] Suction is created using heat (fire) or mechanical devices (hand or electrical pumps). [2]
Through either heat or suction, the skin is gently drawn upwards by creating a vacuum in a cup over the target area of the skin. The cup stays in place for five to fifteen minutes. It is believed by some to help treat pain, deep scar tissues in the muscles and connective tissue, muscle knots, and swelling.
There is reason to believe the practice dates from as early as 3000 BC. The Ebers Papyrus, written c. 1550 BC and one of the oldest medical textbooks in the world, describes the Egyptians' use of cupping.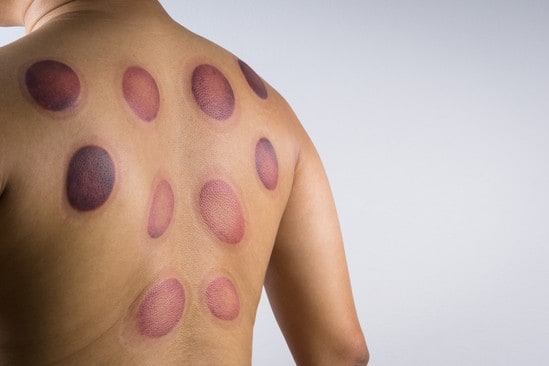 Archaeologists have found evidence in China of cupping dating back to 1000 BC. In ancient Greece, Hippocrates (c. 400 BC) used cupping for internal disease and structural problems. This method in multiple forms spread into medicine throughout Asian and European civilizations. [citation needed] In 1465, cupping was recommended Serefeddin Sabuncuoglu, a Turkish surgeon, and called it mihceme.[3]
Broadly speaking there are two types of cupping: dry cupping and bleeding or wet cupping (controlled bleeding) with wet cupping being more common. The British Cupping Society (BCS), an organisation promoting the practice, teaches both. As a general rule, wet cupping provides a more "curative-treatment approach" to patient management whereas dry cupping appeals more to a "therapeutic and relaxation approach". Preference varies with practitioners and cultures.
Fire cupping involves soaking a cotton ball in 70% alcohol. The cotton is then clamped by a pair of forceps and lit via match or lighter. The flaming cotton ball is then, in one fluid motion, placed into the cup, quickly removed, and the cup is placed on the skin. By adding fire to the inside of the cup, oxygen is removed (which is replaced with an equal volume of carbon dioxide) and a small amount of suction is created by the air cooling down again and contracting. Massage oil may be applied to create a better seal as well as allow the cups to glide over muscle groups (e.g. trapezius, erectors, latisimus dorsi, etc.) in an act called "moving cupping".